XII međunarodna konferencija o društvenom i tehnološkom razvoju (STED 2023)
Univerzitet za poslovni inženjering i menadžment Banja Luka sa zadovoljstvom vas poziva da učestvujete na XII međunarodnoj konferenciji o društvenom i tehnološkom razvoju (STED 2023). Konferencija će se održati u Trebinju u hotelu Leotar, Republika Srpska, Bosna i Hercegovina, od 15. do 18. juna 2023. godine.
Teme konferencije
Konferencija će pokriti različite tematske oblasti:
Inženjerstvo, tehnologija i materijali,
Računarske nauke,
Ekologija, energetska efikasnost i zelena energija,
Ekonomske nauke i menadžment,
Pravne nauke,
Psihologija,
Obrazovanje i
Medicinske nauke.

Rokovi za prijavu radova:
• rok za slanje izvoda je 1. maj 2023.
• rok za slanje punih radova 15. juli 2023.
Troškovi participacije od 90€ uključuju:
• prijavu dva rada,
• konferencijski materijal i program,
• večeru,
• kafu i izlet.
Za dodatne informacije o konferenciji molimo da nas kontaktirate na:
Tel: +387 378 300 | E-mail: stedconference@gmail.com | Konferencijski website: www.conf.univerzitetpim.com
Kontakt osoba: doc. dr Dejan Kojić | Tel: +387 66 253-217 | E-mail: kojic.d@hotmail.com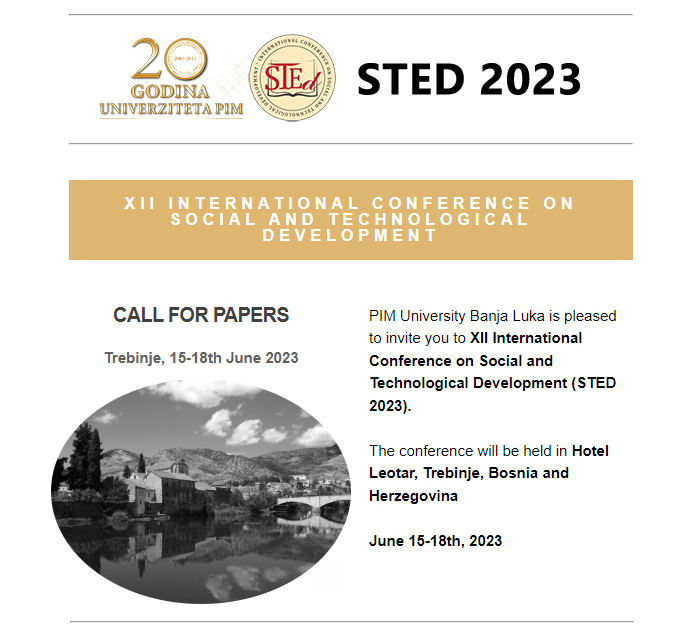 STED 2023 (XII INTERNATIONAL CONFERENCE ON SOCIAL AND TECHNOLOGICAL DEVELOPMENT) – CALL FOR PAPERS
PIM University Banja Luka is pleased to invite you to XII International Conference on Social and Technological Development (STED 2023). The conference will be held in Trebinje, Leotar Hotel, Republika Srpska, Bosnia and Herzegovina, June 15-18, 2023.
Themes of Conference
The conference will cover different subject areas:
Deadlines:
• submission of abstracts is May 1st 2023
• submission of full papers is July 15th 2023
Participation fees 90€ includes:
• two papers,
• conference materials and program,
• conference dinner,
• coffee and excursion
Please contact us if you need any additional information about the conference.
Phone: +387 378 300 | E-mail: stedconference@gmail.com | Conference website: www.conf.univerzitetpim.com
Contact person: PhD Dejan Kojić | Phone: +387 66 253-217 | E-mail: kojic.d@hotmail.com